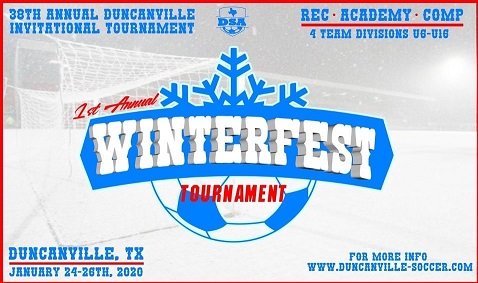 38th Annual Duncanville Invitational Winterfest
January 24th, 25th and 26th
This is a Recreational, Academy and Competitive tournament open to NTX Soccer teams ages 6U-16U.
ALL teams are guaranteed 3 games.
3 guest players allowed per team.
6U to 8U will receive participation trophies.
9U and above could have Sunday games IF they reach finals.
9U and above only receive trophies if they place.
Payments can be made online.
 Last day to REGISTER and PAY is January 5th.
6U-8U $175
9U-10U $250
11U-12U $275
13U-14U $300
15U-16U $350
Click HERE to register
Duncanville Soccer Association
972-709-9007
214 S. Main St.
Suite 100C
Duncanville, Texas 75116
IN OFFICE HOURS: 
Temporarily CLOSED